Asheville & Greenville Commercial Roofing
COMMERCIAL

ROOFING SERVICES
WNC Roofing offers commercial roofing services in Western North Carolina and Upstate South Carolina serving Greenville, Asheville, Hendersonville, and Spartanburg areas. We focus on using the most efficient labor methods along with the best quality products and application methods to meet commercial roofing industry standards. Whether you need a commercial roof inspection, repair, replacement, or new construction, we are here when you need us.
METAL ROOF REPLACEMENT ALTERNATIVE
Metal Retrofit System is a more cost-effective option for metal roofs. Instead of replacing the metal, we fill in the flutes with insulation and place a coverboard and TPO membrane over the metal. These systems come with a 20-year Carlisle warranty and maintenance is much lower than metal roofs.
Quality Commercial Roofing Services You Can Trust
WNC Roofing will perform quality Commercial Roofing Services for the medical, industrial, hospitality, and education sectors. Commercial and industrial roofing systems around Greenville, SC and Asheville, NC need to be reliable and efficient, which is why we use our expertise to create roofs that last. Whether you have a new construction project or need a roof repair on an existing structure, we can guarantee it will be done right.
WHAT CLIENTS

SAY ABOUT US
Sean and Stephanie have worked hard to build a great culture, and a "Safe. Smart. Professional." team. These are not empty words, as they strive in their goals, planning, policies and processes to deliver on this promise with every job. Their focus on quality, responsiveness and providing every customer with a high-quality, long-lasting roof means they get great results. They also excel in preventive maintenance -- keeping the roof working during it's entire lifetime. Cannot do better in NC or SC for a great roofing install or servicing provider!
David Lilly
14:31 03 Jun 21
Reliable and professional. Good results
Neil Farnam
14:01 18 May 21
I was so impressed with this company, the communication and the quality of workmanship. They were always on time and cleaned up afterwards real well. The roof looks awesome! I would highly recommend WNC Roofing for any job big or small that you may have.
Annette Shipley
16:07 04 Mar 21
WNC Roofing was the perfect choice for installing a new roof on our circa 1940"s commercial property. The new roof was installed on time, no disruption to our daily business occured, and All involved were very professional! We will enjoy the secruity the new roof provides our property for many many years to come, without worry because of the quality work of WNC Roofing. Thank you Shelby Fabrics
leah ledford
21:58 18 Feb 21
Great company to work with. Good customer service and professionalism. Very satisfied with their work on our roof issues.
Foster Church
23:08 05 Nov 20
Great company to do business with. Had WNC Roofing repair the roof on our business. They did a great job, got the work done in one day and cleaned up when they were done.
Willis Hudson
03:24 19 Sep 20
Great work. Would definitely recommend
Janice Kilburn
16:50 05 Aug 20
It's been great to re-roof our 100 year old historic building in central Asheville with WNC. They aren't the cheapest, nor the most expensive, but exactly what we were looking for. Through the course of the project from quoting to completion, they have been extremely professional and courteous. They provided very good quality and value, and we felt were the best choice when quoting the project. We wanted to work with a company that would take care of our building, take care of our tenants, while getting it done as quickly as possible. Our project was "the biggest little job in quite a while" and was almost all finish work due to many AC units, roof penetrations, and some challenges with logistics.I would highly recommend WNC for any project where a quality product and workmanship is expected and appreciated.Thank you, JHS
Kress Television
20:35 22 Jun 20
WNC Roofing redid chimneys at a condo building that I manage and the experience was very easy and professional. They were very communicative about problems they saw and repaired everything very well. They made this project very easy to complete.
Susan Cocke
20:24 28 Apr 20
The WNC roofing crew were very attentive to detail. Competitive pricing. Highly recommend.
Jimi Rentz
15:59 22 Nov 19
I would highly recommend WNC Roofing for any commercial roofing repairs or replacement. They did a great job on my office building and I enjoyed working with Sean and his team. Very competitively priced as well. Give them a call, you'll be happy you did!
Kathy Hoyle
18:13 02 Aug 19
Couldn't ask for better customer service and professionalism From Sean & Stephanie Ross and their team. Highly recommend!
Kenny Hall
00:13 16 Jul 19
Sean and his team are second to none when it comes to commercial roofing. I have dealt with many other roofing companies in the area and there is no one that meets the quality work of WNC Roofing!
Jason DeMent
16:39 08 Apr 19
Sean's crew did a great job replacing a very large section of very old roofing. The crew was professional and we are now leak free for the first time in years. We are on their schedule to complete some other repairs in the next couple of weeks. I would recommend their work for any commercial application.
Mark Merlin
15:54 21 Feb 19
Great experience with WNC. Made a very difficult job easy on time and budget.
Cameron Farish
23:46 20 Jan 19
The repair team phoned ahead, arrived on time and did a great job patching a hole in the roof caused by a tree branch spearing through it. They were courteous and cleaned up after, I couldn't see the new patch from the old roof, which thankfully was only 4 years old and the same color.
tim alderson
12:38 26 Oct 18
WNC Roofing recently completed repairs to the aging roof of our commercial building, aptly timed, just before Hurricane Florence came though! We were very pleased with the level of professionalism and detailed work which went into the repairs. The roofers were thorough in documenting all procedures and materials and provided photos of the repairs . At the end of the day the workers let us know what had been done that day and what was still required. Everything is nice and dry in our building now. We will call on WNC for our future roofing needs.
Richard McKinney
15:45 25 Sep 18
Great group to work with. Did a fantastic job on our gutter replacements
TheDinosaurKing 777
18:54 21 Aug 18
WNC replaced my roof 3 years ago. When some shingles came unglued under some dormer windows, they came out immediately and repaired them at no charge, even though they were no longer doing residential work. Very impressive!
Great company to work with, very responsive.
Will Allen
20:43 05 Jun 18
All aspects of the roof replacement of our commercial building,from contracting to finish, was done well above expectations; and, we highly recommend WNC Roofing, LLC to anyone needing commercial roofing.
Gene Mooney
16:39 01 May 18
WNC ROOFING performed an oustanding job from the office staff to the men who completed our roof. Everything was completed in a timely manner with the upmost attention to detail! I would highly recommend this company!
Thomas Campbell
19:32 24 Apr 18
I could not have asked for a better job! Sean and William did exactly what they said they would and ahead of schedule. I had a TPO roof installed on a relatively flat roof 5 years ago by the local roofer and it was a constant problem. Sean came and assessed the situation, put a plan in place and we went with a total tee off to the rafters. WNC roofing repaired and replaced over 100 rafters and installed all new AdvanTech plywood on a 5500 sq ft roof with high fashion tenants working in the bldg underneath. The old adage is true you get what you pay for! Don't cut corners to save a few thousand when it comes to your roof. Get the Pro's and sleep at night, get it done right! WNC roofing was Professional, Safe and Great to work with. I am completely satisfied! Mike Leddy SC/NC Builder/Realtor
Michael Leddy
10:16 20 Apr 18
On behalf of the Board of Longchamps Condominum Association, a 90 year old building, I want to commend WNC Roofing for its excellent work it performed on our roofs.They not only honored their warrently, they went above and beyond and replaced the roof with a new and better product. We highly recommend them. An excellent, pleasant and hard working team.
Jeffrey Fromson
21:03 28 Mar 18
Great roofing contractor!! Great quality roof that was completed timely on my Camp Bow Wow South Asheville. When the architects dropped the ball, they even designed a roof for me over an old dock. They are very knowledgeable about roofing issues. My gutters work great too. Sean and his employees are all great to work with and around. If you need a new roof and want a quality job, these are your guys!!!!
Camp Bow Wow South Asheville
01:00 13 Feb 18
We are always looking for talented people to join our commercial roofing company. We are seeking motivated, hard-working individuals to join a growing company. As a team, we pride ourselves on excellent customer service and high-quality work.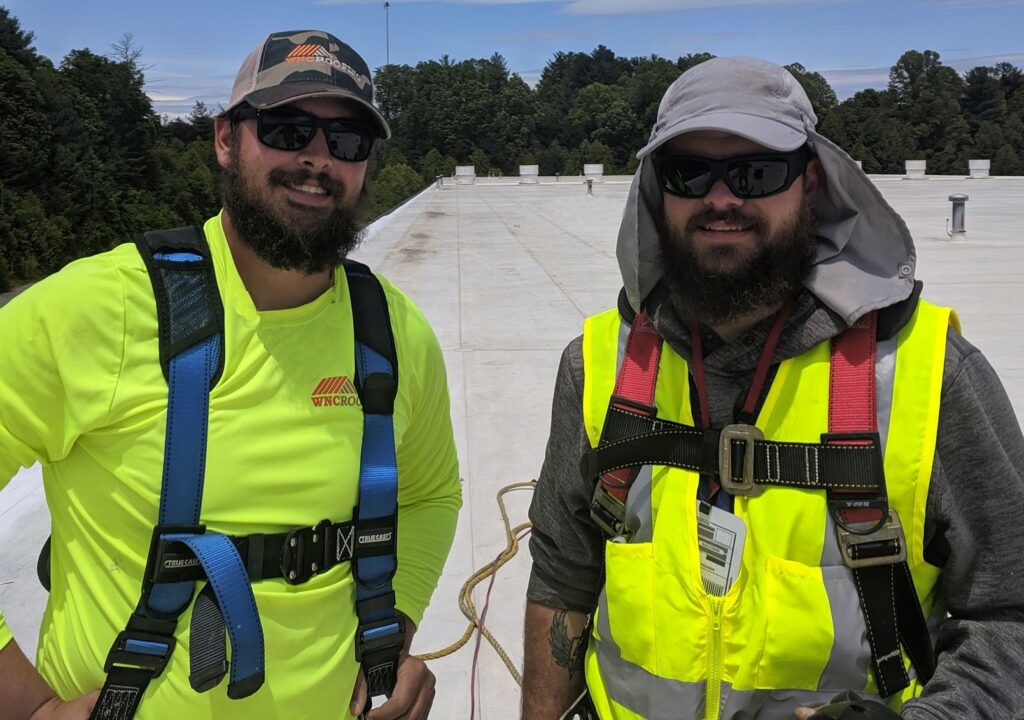 Safe, Smart, and Professional Service for Your Next Roofing Project.