"People don't care how much you know, until they know how much you care."
– Theodore Roosevelt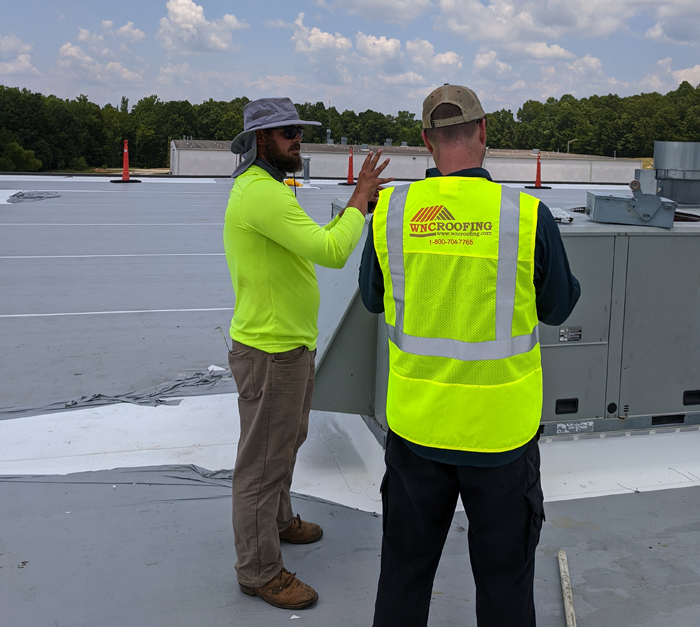 WNC Roofing has built its reputation on a commitment to excellence, and customer satisfaction in the commercial roofing and industrial repair industry. As a commercial property owner or decision maker, you want the job completed right the first time. When you choose WNC Roofing for commercial roof repair services, you can count on:
Quality Workmanship
Premium Materials
Superior Customer Service
Professionalism and Safety
Service for all types of low and steep sloped roofing systems
Follow-Through and Transparency
Free estimates
Following Specific Processes
WNC Roofing listens to your needs and strives to provide the best solutions for you and your facility.
1. From your very first conversation with our commercial roof repair professionals, you can expect:
A complete and thorough investigation of your roof
An in-depth discussion about your roofing needs and concerns
Accurate, experienced suggestions only for the repairs needed
A professional estimator to analyze all of your information
No unnecessary extras, pressure, or obligation to sign with us
2. Once under contract, WNC Roofing will:
Set a firm arrival time
Take before and after pictures
Thoroughly document the work
Supply a formal work order
Complete the work in a timely manner
Keep you informed of progress
Respect your time and property
3. Responsive, quick and thorough commercial roof repairs include:
Flat roof repair
EPDM (ethylene propylene diene terpolymer) roof repair
TPO (thermoplastic polyolefin) roof repair
PVC roof repair
Built-up roof repair
Metal roof repair
What Clients Say About Us
Kristopher Marlowe
22:12 19 Jan 21
Great company to work with. Good customer service and professionalism. Very satisfied with their work on our roof issues.
Foster Church
23:08 05 Nov 20
Great company to do business with. Had WNC Roofing repair the roof on our business. They did a great job, got the work done in one day and cleaned up when they were done.
Willis Hudson
03:24 19 Sep 20
Great work. Would definitely recommend
Janice Kilburn
16:50 05 Aug 20
It's been great to re-roof our 100 year old historic building in central Asheville with WNC. They aren't the cheapest, nor the most expensive, but exactly what we were looking for. Through the course of the project from quoting to completion, they have been extremely professional and courteous. They provided very good quality and value, and we felt were the best choice when quoting the project. We wanted to work with a company that would take care of our building, take care of our tenants, while getting it done as quickly as possible. Our project was "the biggest little job in quite a while" and was almost all finish work due to many AC units, roof penetrations, and some challenges with logistics.I would highly recommend WNC for any project where a quality product and workmanship is expected and appreciated.Thank you, JHS
Kress Television
20:35 22 Jun 20
WNC Roofing redid chimneys at a condo building that I manage and the experience was very easy and professional. They were very communicative about problems they saw and repaired everything very well. They made this project very easy to complete.
Susan Cocke
20:24 28 Apr 20
Tim Wilson
14:32 30 Jan 20
The WNC roofing crew were very attentive to detail. Competitive pricing. Highly recommend.
Jimi Rentz
15:59 22 Nov 19
Brianna Hall
22:01 03 Nov 19
I would highly recommend WNC Roofing for any commercial roofing repairs or replacement. They did a great job on my office building and I enjoyed working with Sean and his team. Very competitively priced as well. Give them a call, you'll be happy you did!
Kathy Hoyle
18:13 02 Aug 19
A Franklin
14:39 31 Jul 19
Bethany Freeman
14:21 31 Jul 19
Couldn't ask for better customer service and professionalism From Sean & Stephanie Ross and their team. Highly recommend!
Kenny Hall
00:13 16 Jul 19
Amanda Holstein
00:03 16 Jul 19
Lauri Holstein
23:53 15 Jul 19
Sean and his team are second to none when it comes to commercial roofing. I have dealt with many other roofing companies in the area and there is no one that meets the quality work of WNC Roofing!
Jason DeMent
16:39 08 Apr 19
Sean's crew did a great job replacing a very large section of very old roofing. The crew was professional and we are now leak free for the first time in years. We are on their schedule to complete some other repairs in the next couple of weeks. I would recommend their work for any commercial application.
Mark Merlin
15:54 21 Feb 19
Great experience with WNC. Made a very difficult job easy on time and budget.
Cameron Farish
23:46 20 Jan 19
The repair team phoned ahead, arrived on time and did a great job patching a hole in the roof caused by a tree branch spearing through it. They were courteous and cleaned up after, I couldn't see the new patch from the old roof, which thankfully was only 4 years old and the same color.
tim alderson
12:38 26 Oct 18
WNC Roofing recently completed repairs to the aging roof of our commercial building, aptly timed, just before Hurricane Florence came though! We were very pleased with the level of professionalism and detailed work which went into the repairs. The roofers were thorough in documenting all procedures and materials and provided photos of the repairs . At the end of the day the workers let us know what had been done that day and what was still required. Everything is nice and dry in our building now. We will call on WNC for our future roofing needs.
Richard McKinney
15:45 25 Sep 18
Rick Hoffman
16:08 18 Sep 18
Great group to work with. Did a fantastic job on our gutter replacements
TheDinosaurKing 777
18:54 21 Aug 18
WNC replaced my roof 3 years ago. When some shingles came unglued under some dormer windows, they came out immediately and repaired them at no charge, even though they were no longer doing residential work. Very impressive!