Why Have a Commercial Roof Maintenance Plan?
As a facility manager or building owner, there are several issues that arise throughout your day that need your immediate attention. And as a commercial roofing company, we work with facility managers and building owners on a daily basis. We understand your challenges. We also realize that roof maintenance, although critically important, sometimes gets overlooked or pushed out to address day-to-day, core business production and facility issues that may arise.
WNC Roofing is here to help. Having a knowledgeable, dependable, and professional company to focus on your roof maintenance, not only makes sure all your assets are protected, it's the smart thing to do for your business. Here's why a managed commercial roofing maintenance plan is the right decision for your company…
See WNC Roofing's Commercial Roof Maintenance Plans
When your team has to take time away from managing your core business responsibilities, production suffers. 
This can ultimately impact your bottom line.
When a leak happens, it becomes a priority and can bring everything to a halt. Having our team manage your roofing needs eliminates surprises and provides you with a dependable contact to solve any issue that may arise.
Knowledge Equals Efficiency
Our team of commercial roof technicians knows exactly what to look for to ensure your roof performs at its best. We know what problem areas look like and we know the best solutions – no matter what type of commercial roof you may have.
WNC Roofing specializes solely in commercial roof inspections, repairs, replacements, and maintenance. It's all we do, and we do it very well.
Whether it's an emergency repair or a quick fix that we identify as part of a routine roof maintenance plan, our team comes equipped with the necessary materials to get the job done right the first time, every time.
There's no need for your internal team to waste money, time, and space on roofing supplies that sit around, won't be used, or are used incorrectly.
Your Manufacturer's Warranty
Whether your roof is nearing the end of its life or maybe it was just installed last year, regularly scheduled maintenance is a requirement by most roofing material manufacturers.
Just as you document maintenance on any piece of equipment or vehicle, your roof is no different. We provide our clients with written documentation along with images of issues and repairs recorded in your roof's maintenance log. This is required for warranties like Carlisle's Continu-Care Program
If a roofing warranty issue ever arises, you can rest assured your roof has had the required maintenance to support it.
When it's all said and done, knowing that your roof and business assets are safe and dry, will give you peace of mind and the ability to tackle all your other daily duties without interruption.
Your roof is your company's first defense to any of the elements that mother nature may bring and WNC Roofing ensures it performs the way it should, for as long as intended.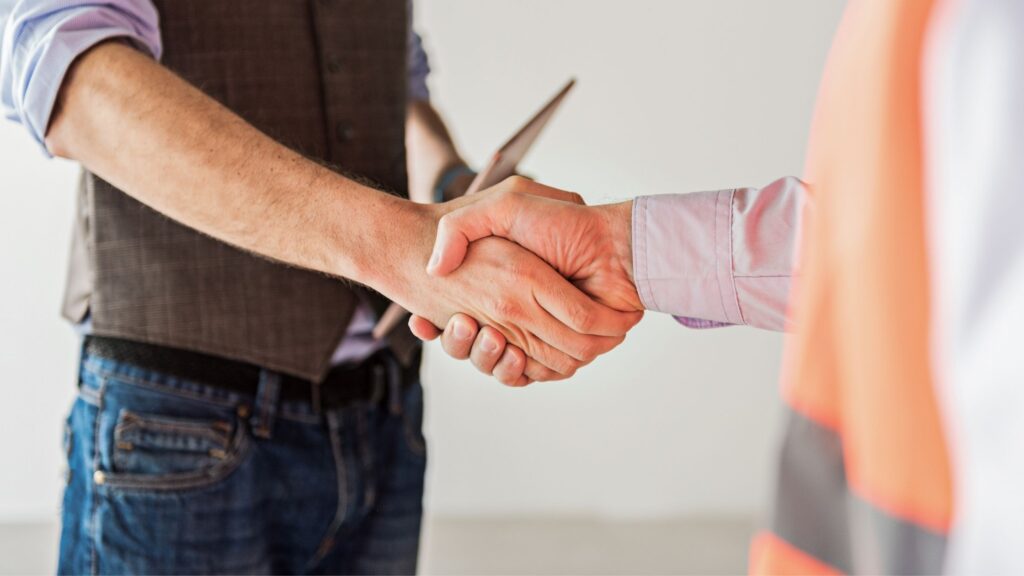 So as we head into fall, we can't stress enough that this is not the time to push off maintaining your facility's roof. With a quick inspection of a few key common problem areas, you can ensure winter and spring won't bring any unexpected roofing problems that could delay production, affect business, and ultimately cause major expenses down the road.
We've outlined a quick Fall Roof Maintenance Checklist below (also check out our Spring Cleaning Checklist). The following tips are described for both flat and sloped-roof commercial buildings. Plus, various types of commercial roof membranes react differently to various climates and these considerations should be considered as it relates to your maintenance planning. Let's jump right into it.
You should plan a quick check of your commercial roof every couple of months for damage that could be caused by falling debris or human activity from regularly scheduled or emergency mechanical work.
If your facility is in an area near trees or wooded areas, you'll want to plan on scheduling your maintenance once the leaves have all fallen for the season.
This way you'll be able to remove all leaf buildup without concern of your efforts being overrun until the same time next year. We recommend you choose a date for Fall Roof Maintenance and add it to your annual maintenance calendar. 
2. Maintain Your Roof's Environment
Location plays a key role in how much maintenance may be needed for your facility. Make certain to prune back any branches that could possibly extend over the roof's structure. This will eliminate the possibility of damage due to falling limbs and other objects from the trees.
Plan on pruning in the summer so your fall clean-up will be considerably reduced. Also, be certain when you do remove nearby branches, to take precautions to avoid damage that could result from branches falling onto your roof's membrane, gutters, edge metals, or drains.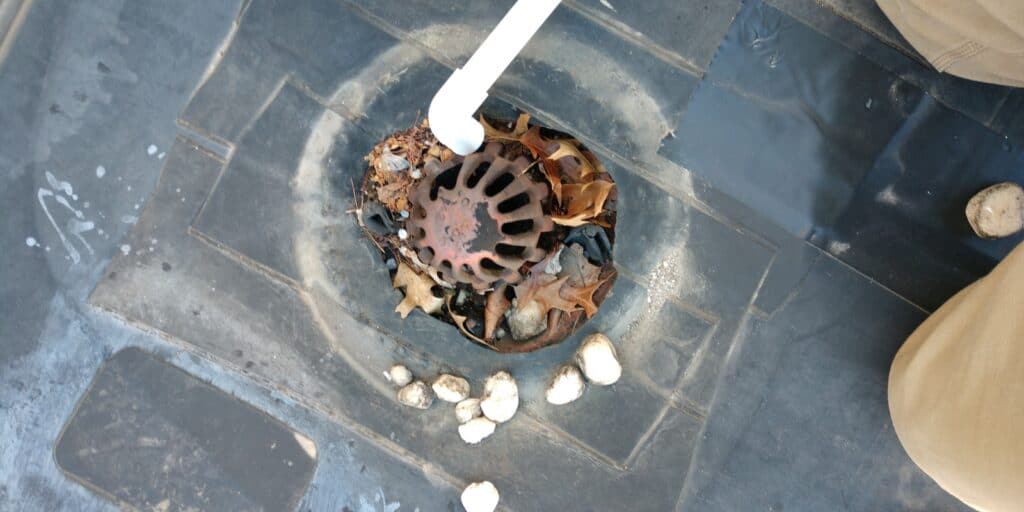 3. Drains, Scuppers and Gutters
With falling leaves, nuts, and branches, one of the first things to address is your roof's drainage: internal drains, scuppers, and gutters.
Debris will be washed to these areas and clogging can result. As rainwater backups, it can overrun gutters, curbs, and mechanical equipment causing leaks.
With flat roofs, standing water not only increases weight strain on your roof, but silt build-up also creates dark spots on the surface of the roof once the water evaporates.
On white TPO membrane roofs, these dark areas attract the sun's rays and can raise the roof's temperature to as high as 160 degrees.  Over time, overheating of the TPO membrane will cause the fibers in the membrane to break down the material's fibers. If not cleaned, this can eventually destroy the membrane completely.
To address silt build-up on flat roofs, it's important to clean your roof and remove any dark areas that we have discussed previously.
There are special cleaning products designed specifically for cleaning roof membranes however, scrubbing your roof with simple dish soap and water can be just as effective.
Spray off dirt and soap with a low-pressure hose. We don't recommend using a high-powered pressure washer as this can potentially damage seams and penetrations.
5. Inspection for Punctures / Seams / Decayed shingles / Worn fasteners
Once all the debris has been removed from your roof and cleaning of any silt build-up has taken place, you will want to inspect your membrane for any punctures or seam failures. Seams between membrane sheets, around penetrations, and curbs can all be potential problem areas depending on the age of your roof.
On metal roofs, exposed fasteners can also be problem areas as the rubber washer that seals the space between the fastener and the metal panel can wear out over time. This creates a void where water can enter the building. (Learn more about metal roof repair options.)
For shingled/asphalt roofs, you want to check for worn, torn, or missing shingles throughout the roof, especially in the eaves and valleys where water flows into the drainage system. Replace any locations where there is evidence of water infiltration that could possibly lead to rotting of the roof's decking.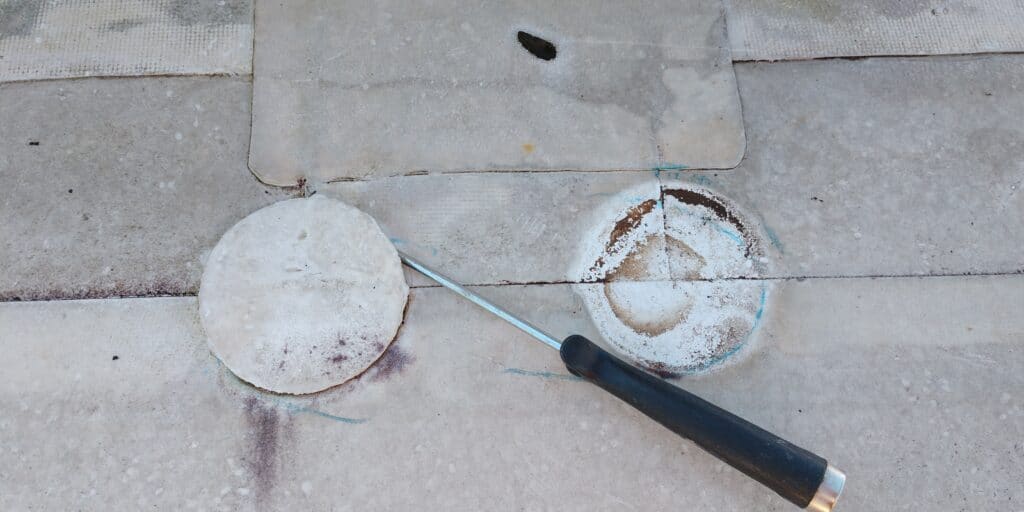 Be sure to inspect and clear around any downspouts your roof may have. Many times, debris will flow through the downspout and can clog or build up at the base if not properly designed to run away from the building.
We hope this helps you as you organize your fall roof maintenance plan. When addressed on a regular basis, you can rest assured your roof will be prepared for the upcoming rainy season. And if you need any help to get your roof in tip shop shape or if you're currently experiencing active leaks, WNC Roofing is here to help. With a team of roofing technicians who specialize solely in commercial roof maintenance, repair, and replacement, we know what to look for and will provide you with professional advice and quality workmanship.
Call us today at 800-704-7765 or click here for a free roof quote and we'll have our survey team scheduled for a visit. As an exclusive Commercial Roofing contractor, we specialize in inspections, repairs, replacement, and maintenance programs designed to maximize the life of your investment.