Commercial Roofing Inspections
"If you don't have time to do it right, when will you have time to do it over?"
- John Wooden
Commercial Roof Inspections
WNC Roofing offers written industrial and commercial roof inspection services with photo documentation. Our inspections can help you make the right decision during the sale or purchase of a commercial property. An inspection also can prolong your investment in your current roof.
Regardless of what type of commercial roof inspection you need, including flat roof inspection, we do thorough, honest work. Our written roof inspections guide you to prepare a preventive maintenance plan to reduce repair and replacement costs.
WNC Roofing's comprehensive eight-point roof maintenance inspection consists of the following:
Inspect the entire roof area for damage that may have resulted from foreign objects or human activity (i.e., HVAC unit maintenance)
2. Inspect for debris that may have accumulated on the roof surface to ensure it does not restrict drainage or cause roof membrane damage.
3. Inspect all roof drains, overflow drains, grates and scupper drains to ensure a free flow of rainwater and snow melt.
4. Inspect all welds at membrane field seams, roof curbs and roof penetrations. Verify that no voids have developed at the weld points.
5. Inspect all sheet metal flashings and counter flashings at copings, gutters collector boxes and downspouts to verify they are firmly attached and sealed.
6. Inspect and verify that the roof access scuttle, ladder and locking mechanism are operational and that all flashings are in place and secure.
7. Verify that all HVAC unit access doors and covers are installed and secured.
8. Submit a written report to the building owner with photos detailing the current roof condition, evidence of any roof abuse, and any issues that could potentially lead to future roof problems.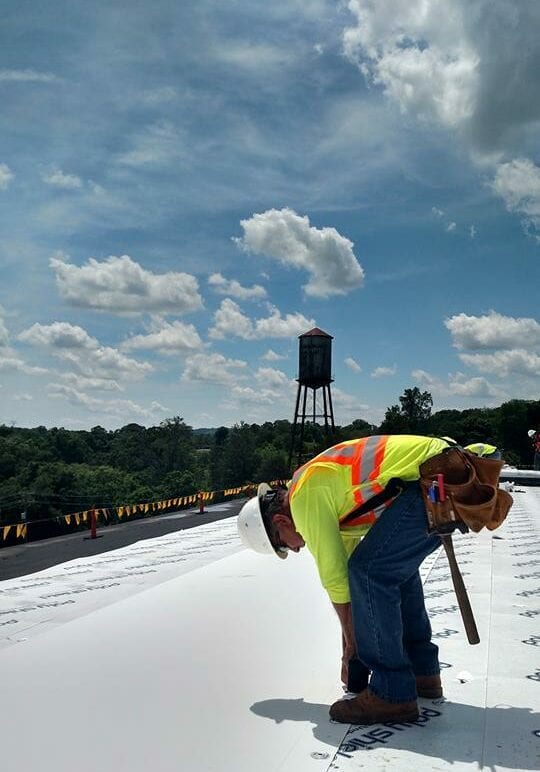 The Benefits of a Roof Inspection
Getting a roof inspection from WNC Roofing puts your mind at ease. You can sleep better at night knowing a safe, conscientious commercial roofing company is performing a thorough inspection. Knowing the issues affecting your roof allows you to take preventative steps now that will save you hundreds or thousands of dollars in repair work in the future.
Our team of trained professionals will provide you with the best options for further protecting your building. We pride ourselves in specialty roofing installations to ensure that your new roof will not only look great but also will meet all manufacturer warranty requirements. We also offer all types of commercial roof repair services.