Share on Facebook |  Share on Messenger |  Share on Linkedin |  Share on Twitter |  Share on Email
When the time comes to consider a replacement for your commercial roof, different roofing materials offer varying lifespans. Quality installation along with regular maintenance schedules can extend your roof's life. In this article, we discuss the options of roofing products, how they are used, and expected lifespan.
Commercial roof lifespan can vary from 10 to 45 years based on the following system types, installation and maintenance:
EPDM (Ethylene Propylene Diene Monomer): 15-25 years (higher if fully adhered)
Metal System: 30-45 years
TPO (Thermoplastic Polyolefin): 15-25 years (higher if fully adhered)
PVC (Polyvinyl Chloride): 20-30 years (higher if fully adhered)
Asphalt System: 25-35 years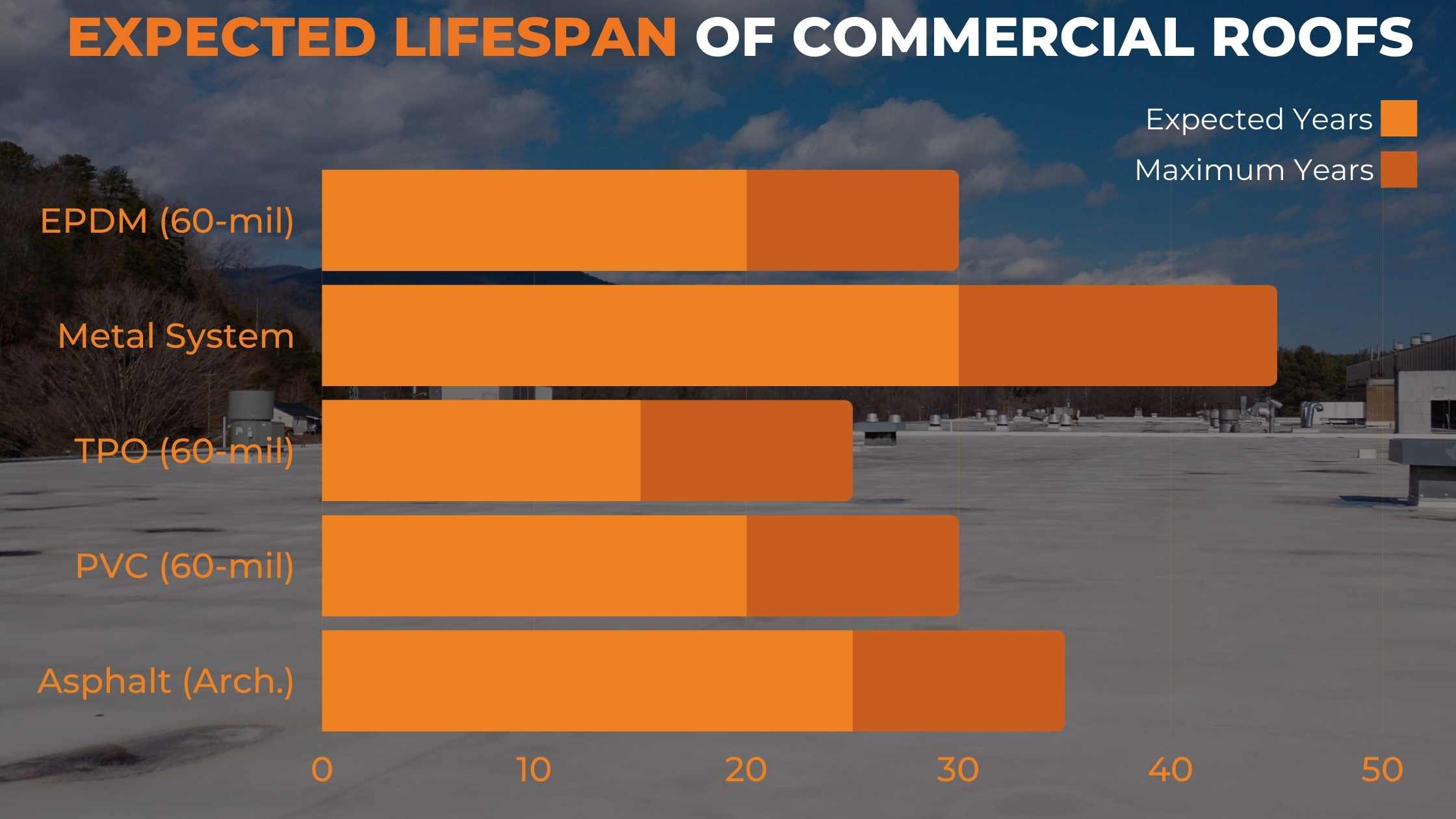 EPDM (Ethylene Propylene Diene Monomer)
EPDM provides an extremely durable synthetic rubber as a membrane to cover low-sloping roofs and has been used frequently over the past 50 years. Architects and engineers see EPDM as a high-performance roofing system for its flexibility and strength. Another benefit of an EPDM roofing system is its energy efficiency offered in white or black which is designed to reflect or retain heat. EPDM can be resistant to thermal shock and hail damage and can accommodate structural movement without damage to the membrane. An EPDM membrane can last up to 30 years or longer with the proper maintenance and the material is fully recyclable when it does come time to replace.
Metal
One of the oldest commercial roofing materials, metal roofing system last longer with an average age of 20-30 years but up to 45 years or more with consistent maintenance. Metal roofing systems use corrugated galvanized steel, although aluminum and tin can also be used. Metal tends to be more adaptable to steeper sloped roofs and comes in a variety of weights and finishes that also have an impact on the overall life of the roof.
TPO (Thermoplastic Polyolefin)
TPO membranes contain a blend of polypropylene and ethylene-propylene rubber. They come in white, gray and tan colors. White tends to be the most popular for being highly reflective. Its UV-resistance cuts more than 85 percent of the sun's damaging rays, in-turn reducing cooling costs in air-conditioned facilities. Commonly, TPO is used for flat commercial roof replacement such as shopping malls, office complexes and big box stores. It comes in a variety of thickness ranging from 45 mil to 80+ mil which can fit within a wide variety of budgets. 80-mil TPO roofs come with up to a 25-year warranty. With the appropriate maintenance,  TPO roofing systems can last as long as 30 years.
PVC (Polyvinyl Chloride)
PVC is known as being the original heat-welded single-ply roofing system. Although incompatible with asphalt, PVC systems are durable, flexible and are known to resist rooftop chemicals, oils and industrial byproducts. They also have fire-resistant properties. A PVC roofing system has an average lifespan of 20-30 years with proper installation and maintenance.
Asphalt
One of the main determining factors in the lifespan of an asphalt roof is roof slope. A low-slope asphalt roof will typically last 15 to 25 years when installed correctly by experienced roofing contractors. Steeper slope asphalt roofs can last as long as 35-40 years. Other factors to consider when installing an asphalt roof system is the quality of the shingles and a consistent maintenance schedule to identify and repair any potential issues.
Do you need some help deciding on the best commercial roof for your business? 
WNC Roofing understands all the variables you should consider when it comes to making a financial commitment to your roof's repair, maintenance and replacement. Our team of commercial roofing experts will provide you with the best options to your unique situation.
With more than a decade of working in the commercial and industrial roofing industry, we have supported the needs of many local businesses throughout Asheville, NC, Greenville, SC, and Spartanburg, SC area. If you're considering a change or have some current repair needs, let our service team provide you with the advice you need to make the most cost-effective decision in the long run.
Share on Facebook |  Share on Messenger |  Share on Linkedin |  Share on Twitter | Share on Email
Issues with Your Commercial Roof? Request an Inspection from One of Our Experience Technicians.
Fill Out the Form and We'll Reach Out!