Slope Part 1 - How & Why Ponding Water Damages Membrane Roofs
Part 1: This article will detail how and why ponding water on White rubber membranes such as TPO or PVC will lead to premature failures.
Each time it rains puddles form in low spots and dirt and debris collects.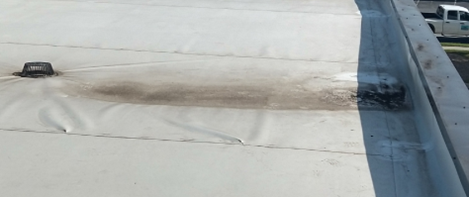 Early Stage of dirt beginning to collect due to ponding
2. With every cycle of rain and evaporation an additional layer of dirt is left behind and the low spots get darker and darker over time.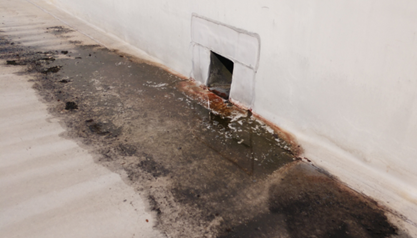 WNC Roofing is called out all too often to repair issues caused by previous roofers' shortcuts as you'll see in future photos.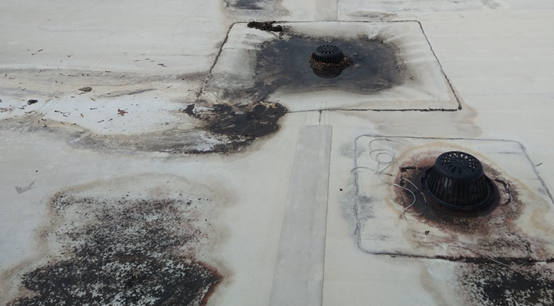 Drains are not properly sumped.
Roof does not have a positive slope towards the drains.
Severe formation of dark areas due to ponding that has led to destroyed membrane and large leaks.
3. The summer sun can raise the temperature of the dark areas to 160 degrees.  
Over time the heat destroys White (TPO or PVC) membranes causing premature membrane deterioration, leaks & failures.
White membranes typically reflect heat and help keep a building cooler in the summer.
These membranes are not engineered to hold up to the high temperatures created by dark areas for long durations.
Our service department received a call for a building with a relatively new roof that had multiple leaks.
This is a photo of a corner where debris collected that they cleaned, photographed and repaired.
Note that the membrane (above AND below the scrim) has been completely burned away!
Another photo of a corner where debris collected
Note the charred blackened roof membrane
Area in front of a curb that is in total failure due to ponding water.
The visible white lines are the reinforcing fibers called the scrim.
TPO & PVC membranes have a scrim in the middle of the membrane to provide strength.
Cross sections of TPO / PVC membranes showing the reinforcement fibers.
Don't let improper drainage cause damaging dark spots to form on your roof!
Make sure to have your roof maintained to insure a long roof life and to save yourself from expensive damage to your building.